< Staff & Leadership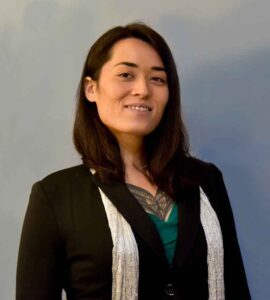 Alexis Paige
Senior Paralegal
Los Angeles, CA
Alexis Paige is a Legal Assistant in the Midwest Regional Office of Lambda Legal, the oldest and largest national legal organization committed to achieving full recognition of the civil rights of lesbians, gay men, bisexuals, transgender people and everyone living with HIV.
As a legal assistant, Paige supports Lambda Legal attorneys throughout the country on an array of matters and at all levels of administrative, state and federal courts.  Currently, she is assisting in Lambda Legal litigation challenging the current administration's discriminatory and arbitrary ban on open military service by transgender individuals. She is also assisting in a case on challenging a prison's "freeze-frame policy" that bars a transgender inmate from accessing medically necessary transition-related health care. She has also supported litigation and advocacy efforts on behalf of people living with HIV, including a case on behalf of a helicopter paramedic terminated from his job when his employer learned about his HIV status, as well as recent efforts to end the unjust criminalization of people living with HIV. After the Trump administration rescinded important Department of Education guidelines that clarified for schools that transgender students were protected by federal law, Paige fielded calls from students all over the country affected by the change. She has also contributed articles to the Lambda Legal blog and gives presentations, participates in panel discussions and speaks at rallies on behalf of Lambda Legal.
Prior to her work at Lambda Legal, Paige worked for the Cascade AIDS Project, helping clients living with HIV access vital health care. Paige has also worked as an HIV tester and sexual health counselor; and was a member of the organization's Trans Inclusion Committee, which seeks to ensure that the Cascade AIDS Project is a safe and inclusive space for all transgender and gender non-conforming people. Paige also played an integral role in establishing Portland's Trans Pride March as an official event that occurs every year and continues to grow to this day. She served as an interim board member for the Portland Q Center, planning committee member of the 2014 Meaningful Care Conference, and was a member of Basic Rights Oregon's (BRO) Transgender Justice Working Group, which ended the discriminatory exclusions of transition-related care in Oregon's state Medicaid program. The group received BRO's Fighting Spirit Award, for which Paige was chosen to accept the award on behalf of the group. Paige was a volunteer trainer, transgender cultural competency trainer and crisis line operator for the Trans Lifeline, the first suicide hotline in the country dedicated to the needs of transgender people.
Alexis Paige is an honoree of the 2015 Trans 100 and a 2015 Gay & Lesbian Archives of the Pacific Northwest's Queer Hero.