< Staff & Leadership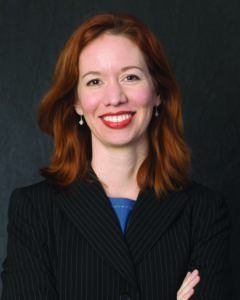 Camilla Taylor
Deputy Legal Director for Litigation
Chicago, IL
Camilla B. Taylor is the Deputy Legal Director for Litigation for Lambda Legal, the oldest and largest national legal organization committed to achieving full recognition of the civil rights of all lesbians, gay men, bisexuals, transgender people and people with HIV. She spearheads Lambda Legal's litigation challenging the Trump/Pence administration's assault on LGBT rights.
Most recently, Taylor has worked on Karnoski v. Trump, challenging the constitutionality of the Trump administration's ban on military service by transgender people; and Marouf v. Azar, a lawsuit against the U.S. Department of Health and Human Services (HHS) on behalf of a lesbian couple denied an opportunity to apply to foster a refugee child in a federal program exclusively funded by HHS and administered by a faith-based agency on the ground that the couple does "not mirror the Holy Family."
Taylor was the National Marriage Project Director at Lambda Legal from 2011 through 2015. In 2015, the Marriage Project concluded its work as a result of victory in the consolidated cases titled Obergefell v. Hodges. In Obergefell, the Supreme Court ruled, in a landmark decision, that the fundamental right to marry is guaranteed to same-sex couples under the Due Process and Equal Protection Clauses of the United States Constitution. This decision struck down all laws banning same-sex couples from marriage in the United States and territories.
Taylor has been counsel in numerous cases challenging the constitutionality of marriage bans around the country including, most significantly, Obergefell v. Hodges and Varnum v. Brien, an early state court victory in which the Iowa Supreme Court, by unanimous decision, struck down Iowa's marriage ban in April 2009, making Iowa the third state in the country to permit gay and lesbian couples to marry. In Bogan v. Baskin, Taylor, along with Paul D. Castillo and the law firm Kirkland & Ellis LLP, obtained a decision from the Seventh Circuit Court of Appeals that not only struck down Indiana's ban but also held that all laws targeting people based on their sexual orientation now warrant elevated scrutiny. Taylor was also part of the team of co-counsel on appeal in Robicheaux v. Caldwell, resulting in a decision from the Fifth Circuit Court of Appeals striking down Louisiana's ban in the wake of Obergefell.
Taylor's other marriage cases include Darby v. Orr, an Illinois case representing 16 couples seeking to marry in Illinois; Garden State Equality v. Dow, a state court case that won the freedom to marry in New Jersey; Gray v. Orr, a federal suit that obtained an emergency order allowing an Illinois woman with terminal cancer to marry her longtime partner; Lee v. Orr, a federal class action lawsuit that struck down Illinois' marriage ban as unconstitutional; McGee v. Cole, a federal challenge to West Virginia's marriage ban; and Jorgensen v. Montplaisir, a federal challenge to North Dakota's marriage ban. In addition, Taylor has contributed friend-of-the-court briefs in numerous federal and state cases challenging marriage discrimination, including before the Tenth Circuit Court of Appeals in Herbert v. Kitchen and Bishop v. Smith, in which the appeals court affirmed decisions striking down Utah's and Oklahoma's marriage bans, respectively, before the Sixth Circuit in Obergefell v. Himes, concerning Ohio's marriage ban, and before the Fifth Circuit Court of Appeals in DeLeon v. Perry.
In addition to her work as a litigator, Taylor has contributed to legislative efforts concerning marriage and parenting around the country, and has testified multiple times before state legislatures in support of marriage bills and in opposition to measures that would permit discrimination against lesbian, gay, bisexual, and transgender people.
Taylor has challenged states' refusal to provide equal marital benefits and protections to same-sex spouses and their children, winning victories in Torres v. Seemeyer, Gartner v. Iowa Department of Public Health and Buntemeyer v. Iowa Department of Public Health, on behalf of same-sex spouses who sought accurate vital records (a birth certificate or death certificate) for their children listing both spouses as parents in reliance on the spousal presumption of parentage.
Taylor has appeared before federal and state courts, such as in Hobby Lobby Stores, Inc. v. Sibelius, Odgaard v. Iowa Civil Rights Commission, Catholic Charities v. Illinois and Ward v. Wilbanks, in friend-of-the-court briefs or as party counsel to challenge arguments by those who discriminate against women and LGBT people that a religious motive exempts such discrimination from coverage under generally applicable non-discrimination requirements. Taylor also has authored friend-of-the-court briefs in numerous Supreme Court cases concerning the breadth and implications of Obergefell, including in Trinity Lutheran Church v. Pauley and Whole Women's Health v. Hellerstedt. In addition, Taylor has participated in numerous cases to secure respect for parent-child relationships, including in appellate child custody cases, such as In re JDF, Morris v. Hawk, and Giancaspro v. Congelton.
Prior to joining Lambda Legal, Taylor was a staff attorney with the Criminal Appeals Bureau of the Legal Aid Society of New York City and a litigation associate with Shearman & Sterling.
Taylor received her J.D. from Columbia Law School and her B.A. from Yale College. She has taught LGBT Law at Northwestern University Pritzker School of Law and the University of Chicago Law School, is a Fellow of the American Bar Foundation, and serves on the American Constitution Society Chicago Chapter Board of Advisors. In 2009, she was named one of Crain's Chicago Business's "40 under 40." Recognition for her work also includes induction into the Chicago LGBT Hall of Fame (2015), the American Constitution Society Ruth Goldman Award (2012), Columbia Law School Public interest Initiative Distinguished Graduate award (2012), Laurel School Young Alumna of Distinction Award (2009), and Matthew Shepard Scholarship Award for Leadership (2009).