< Staff & Leadership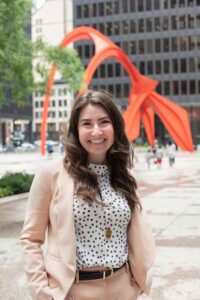 Kara Ingelhart
Senior Attorney
Chicago, IL
Kara Ingelhart is a Senior Attorney in the Midwest Regional Office of Lambda Legal, the oldest and largest organization dedicated to advancing the civil rights of lesbians, gay men, bisexuals, transgender people and individuals living with HIV, where she previously served as a Skadden Fellow.
Ingelhart has played an instrumental role in advancing the rights of LGBT people under federal civil rights laws. Most recently, she is counsel in Karnoski v. Trump, a federal lawsuit challenging the constitutionality of the Trump administration's ban on military service by transgender people, as well as in Roe v. Mattis, a federal lawsuit brought on behalf of two HIV-positive members of the United States Air Force who were given discharge orders because of their HIV status just days before the 2018 holiday season.  She was co-counsel in Evancho v. Pine-Richland School District, where a court held that the equal protection guarantee protects transgender students from discrimination in schools (including bathrooms). She has also served as co-counsel in Lambda Legal's litigation to ensure access to accurate birth certificates for transgender people in every state across the nation, achieving victories in Idaho in F.V. v. Barron, where the court held that discrimination based on transgender status violated equal protection guarantees, and in Puerto Rico in Arroyo v. Rosselló, where the Court found that "the forced disclosure of plaintiffs' transgender status violated their fundamental right to informational privacy." She is also lead counsel in Ray v. Himes, a suit brought on behalf of transgender people born in Ohio who have also been denied accurate birth certificates with accurate gender markers. In addition to her work as a litigator, Ingelhart has contributed to federal and state legislative and policy efforts concerning the inclusion of protections for LGBT people and people living with HIV who are involved in the federal criminal legal system.
Recognized as an emerging leader and passionate advocate for the civil rights of LGBT people, Ingelhart has spoken at some of America's leading law schools, including Northwestern and Notre Dame, and national advocacy conferences on criminalization of LGBT people and people living with HIV and the intersectionality of race, poverty, HIV, and LGBT issues. She has been recognized as one of the Best LGBT Lawyers Under 40 by the National LGBT bar Association (2020) and as one of Chicago's LGBTQ Community's Best and Brightest Individuals Under 30 by the Windy City Times (2016).
Ingelhart graduated from The University of Chicago Law School. She received her bachelor's degree in Biology and Gender Studies from Indiana University, graduating Phi Beta Kappa and with highest honors.
Ingelhart is a member of the Illinois bar.