< Staff & Leadership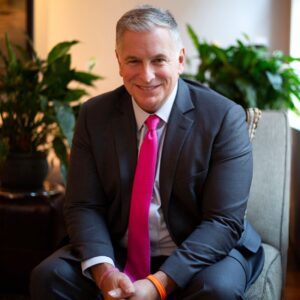 Kevin Jennings
Chief Executive Officer
National Headquarters, New York
Formerly president of the Tenement Museum, Kevin's contributions to the LGBT movement began in 1988, when he helped students create the first school-based Gay-Straight Alliance club, leading him to found and lead the Gay, Lesbian and Straight Education Network (GLSEN) for 18 years. He then served as an Assistant Secretary of Education for President Obama, after which he led the Arcus Foundation, the world's largest foundation for LGBT rights organizations, for 5 years.
He has received several awards, both national and international recognition, including: the "Friend of Children" Award from the National Association of School Psychologists, the Human and Civil Rights Award of the National Education Association, the Distinguished Service Award of the National Association of Secondary School Principals, the Diversity Leadership Award of the National Association of Independent Schools, the Bob Angelo Medal from COC Netherlands, and the "Appalachian Hero" Award from the Appalachian Community Fund, where he established the Alice Jennings Fund, which provides support to organizations serving low-income and battered women in the South.
Kevin is a Lambda Literary Award-winning author of seven books, with his memoir, Mama's Boy, Preacher's Son: A Memoir, having been named a Book of Honor by the American Library Association in 2006. He also helped write and produce the documentary Out of the Past, which won the 1998 Sundance Film Festival Audience Award for Best Documentary, and is an Executive Producer of the documentary The Lavender Scare.
Kevin is actively engaged in nonprofit and community causes.  Currently he chairs the Boards of the Ubunye Challenge and Muslims for Progressive Values.  He is a past Board Member of the Harvard Alumni Association, Union Theological Seminary, Marjorie's Fund, the You Can Play Project, and was the founding Board Chair for the Tectonic Theater Project, which created The Laramie Project.  He is the Founder of the Pride Fund of the Connecticut Community Foundation.
Kevin is a graduate of Harvard College. He also received a Masters of Education from Columbia University's Teachers College, from which he received the Distinguished Alumni Award in 2012, and an MBA from NYU's Stern School of Business.