By Richard Saenz, Senior Attorney and Protected & Served? Project Manager
As we gear up for the launch of Lambda Legal's Protected & Served? 2022 Report on April 20, a comprehensive survey on the experiences of our communities with the criminal legal system, one question we've been asked is "why now?"
The answer is simple. Just look at our history; where we have been and where we are now.
The relationship between LGBTQ+ people and people living with HIV and the criminal legal system has been tumultuous, to say the least. From Marsha P. Johnson and Sylvia Rivera leading the Stonewall Riots in 1969 in protest of police violence and the raids of queer bars to the enactment of HIV criminalization laws during the AIDS pandemic to the use of sodomy laws to mark LGBTQ+ people as "unindicted felons," the criminal legal system has always been used as a weapon to surveil, police, criminalize, discriminate, and harass us.
This is especially true for people who hold multiple marginalized identities such as transgender people of color.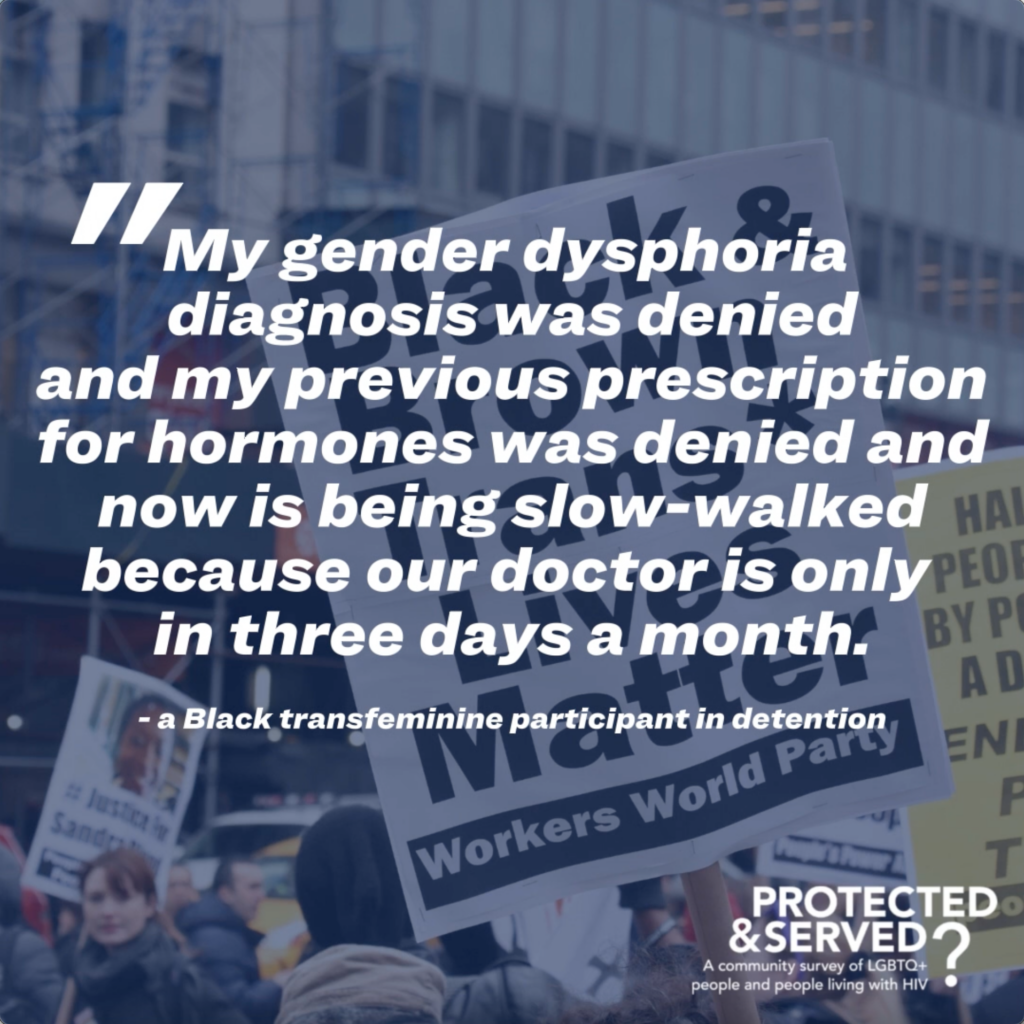 It's why for fifty years, Lambda Legal has challenged policies and government agencies that enable discrimination or target LGBTQ+ people and people living with HIV. We continue with this work because the discrimination and abuses continue on. Just look at all the laws passed in 2022 and in 2023 – and attempts to pass such laws – that criminalize young trans and nonbinary people and their families for seeking life-saving affirming health care. Or the fact that LGBTQ+ people continue to be incarcerated at higher rates than non-LGBTQ+ people, and states continue to criminalize people living with HIV and people engaged in sex work.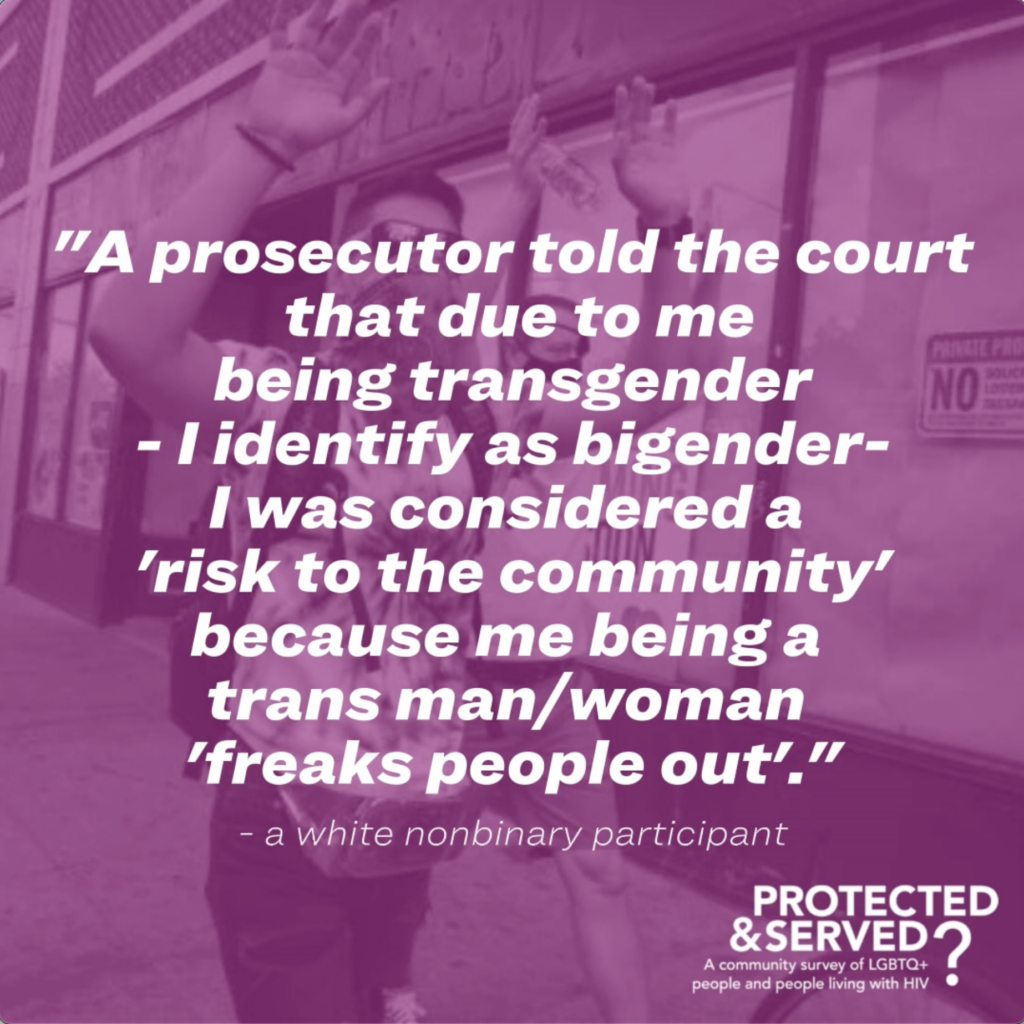 Lambda Legal's first-ever Protected & Served? survey in 2012 looked at government misconduct by the police, courts, prisons and jails, and school security. And it confirmed what we already knew through our own experiences and the experiences of our community members: Whether it's by the police, courts, prisons or school security, our communities experience significant discrimination at the hands of government agents. Over the years, that first report has been an invaluable tool in informing litigation and policy work and has been cited over 150 times by litigators, advocacy groups, scholars, the press, and government entities, including the U.S. Department of Justice and the U.S. Commission on Civil Rights.
Since the release of our first report, we've made tremendous progress in the fight for LGBTQ+ and HIV civil rights, which has been met with widespread, often violent backlash, but has also ushered in public awareness and anger have surged and the calls for drastic reform, accountability, and abolition are louder and more united than ever.
Looking at how far we've come and how much more work we need to do, we knew it was time to revisit this work and expand on it. This time around, we've include the experiences of detained people, young people, people engaged in sex work, and immigrants. In addition, we asked questions about interactions with the court system, the U.S. immigration system, government systems focused on youth, and broader law enforcement.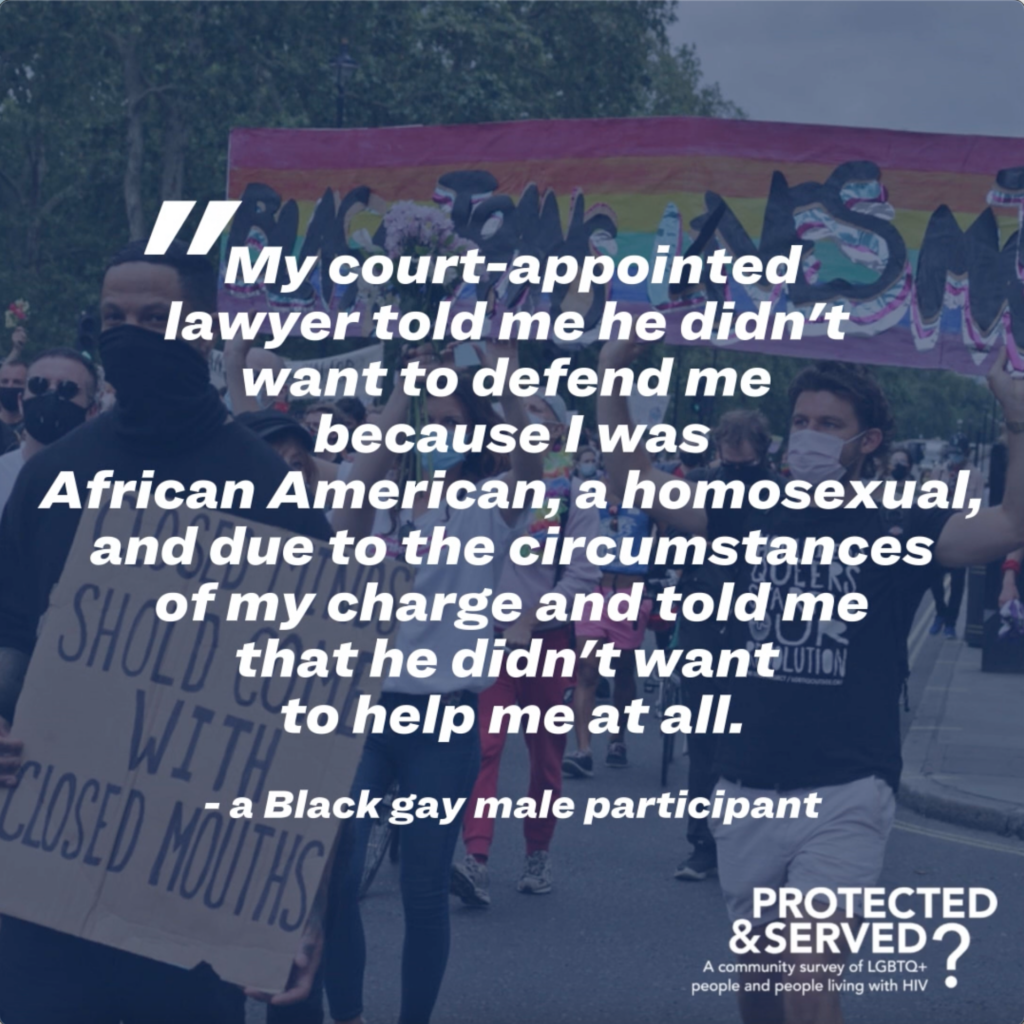 We also partnered with Black and Pink National, a prison abolitionist organization dedicated to ending the criminal punishment system and liberating LGBTQIA2S+ people and people living with HIV/AIDS who are affected by that system through advocacy, support, and organizing. The goal of this partnership is to lift up those voices and Black and Pink's expertise.
We hope that this report, like the 2012 report, will inspire, inform and support your research, advocacy, litigation, and policy efforts to address the abuse experienced by LGBTQ+ people and people living with HIV in the criminal legal system. And we also hope it reminds you that your voice can make a difference.
The Protected & Served? 2022 Report launches on April 20, 2023. Sign up for the report here.
And join us on April 20, 2023 for a special Live Broadcast where I, along with my co-authors from Black and Pink National and Strength in Numbers, discuss our findings and answer your questions.