Live Broadcast: Thursday, April 20
12:00 – 12:45 pm PT / 3:00 – 3:45 pm ET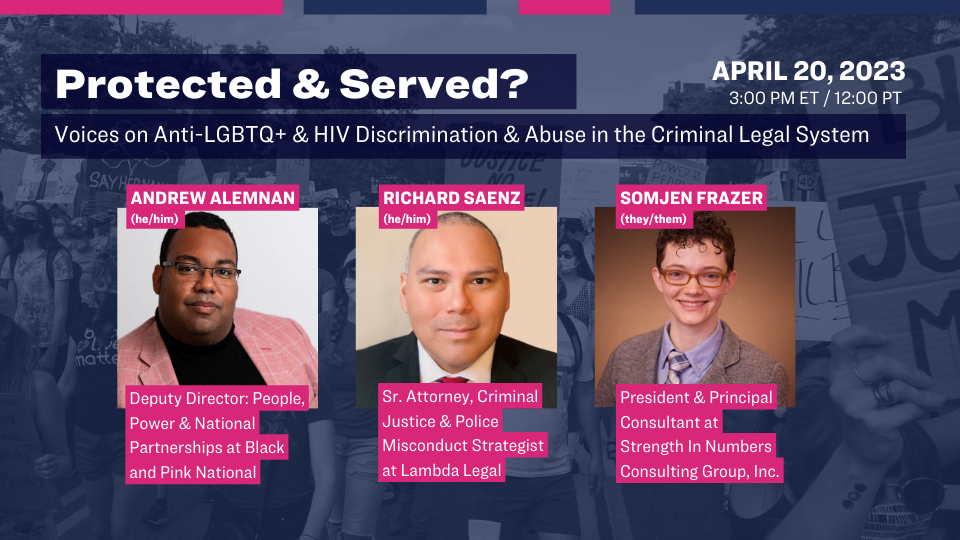 In 2012, Lambda Legal's Protected and Served? survey found that LGBTQ+ people and people living with HIV face serious discrimination and abuse of power directed against them by police, in schools, in prisons and jails, and in the courts.
A decade later, what has changed? Together with Black and Pink National and Strength In Numbers, we surveyed over 2,500 community members to learn more about the experiences of LGBTQ+ people and people living with HIV with the criminal legal system.
That data — quantitative information and personal stories — is the basis for Protected & Served? 2022, a new report on government misconduct involving police, courts, prisons, jails, schools, and other agencies, to be publicly released on Thursday, April 20, 2023.
Sign-Up to get the Report and Watch the Live Broadcast.
The report co-authors will be hosting a special Live broadcast panel conversation on the day of the release, April 20, 2023 at 12:00 pm PT / 3:00 pm ET, to share key findings, analysis, and recommendations for addressing discrimination and abuse in the criminal legal system and for holding the government institutions that are supposed to "protect and serve" us accountable.
The Live broadcast will feature a panel conversation with Lambda Legal Senior Attorney, Criminal Justice and Police Misconduct Strategist and "Protected and Served?" Project Manager, Richard Saenz, Black and Pink Deputy Director: People Power & National Partnerships, Andrew Aleman, and President and Principal Consultant at Strength In Numbers Consulting Group, Inc, Somjen Frazer.
The panel discussion will include a Live Q&A, where the speakers will be answering your questions.
ABOUT OUR SPEAKERS
Richard Saenz (he/him/his)
Richard Saenz is a Senior Attorney and the Criminal Justice and Police Misconduct Strategist at Lambda Legal, where he started as a help desk specialist assisting LGBTQ+ people and people living with HIV in need of legal help. Richard's work focuses on litigation and policy work for incarcerated people, and he is the Project Manager for "Protected & Served?". His cases have resulted in significant changes to discriminatory policies concerning access to health care and the safety of incarcerated LGBTQ+ people and people living with HIV. Additionally, he has filed numerous amicus briefs addressing anti-LGBTQ+ biases in the legal system and has received several awards, including the Hispanic National Bar Association's Top Lawyers Under 40 and the National LGBT Bar Association's Best LGBT Lawyers Under 40. Richard is a frequent speaker on criminal justice and policing issues and is available to speak at conferences, law schools, and events.
Andrew Aleman, LCSW (he/him/his)
Andrew is the Deputy Director of People Power & National Partnerships for Black and Pink National and Principal Consultant for Andrew Alemán Consulting. Mr. Alemán's work is based in dismantling systems of oppression and shifting power to those who are targets of these oppressive systems. His vast expertise includes the following areas: LGBTQ+ communities, mental health, case management, community engagement, advocacy, supervision, sexual health, as well as domestic & sexual violence. In response to his community-based work, Mr. Alemán has been recognized with: 2018 Heartland Pride Brad Fuglei Impact Award, 2019 Young, Black, and Influential Award for Advocacy, 2019 Ten Outstanding Young Omahans Award, and 2021 Omaha Entertainment and Arts Award, and NASW-NE 2022 Social Worker of the Year Award. Mr. Alemán is honored to serve as an Executive Board Member for ACLU Nebraska, Nebraska Affiliate Board Representative for ACLU National, and Committee Member for GLSEN Omaha.
Somjen Frazer, they/them
Somjen is the founder, President, and Principal Consultant at Strength In Numbers Consulting Group. They have over 15 years of experience in research, evaluation, and program design for LGBT communities locally, nationally, and internationally. They are the author of numerous peer-reviewed articles, book chapters, and conference papers. They received their Master's Degree in Sociology from Oxford University, where they were a Rhodes Scholar, and their BA from Cornell University. They completed their PhD in Sociomedical Sciences at Columbia University's Mailman School of Public Health, where they were a Gender, Sexuality and Health Fellowship recipient. Their methodological interests include community-based participatory action research (CBPR), multi-method research designs, quasi-experimental design, and multivariate statistics.
Samy Nemir Olivares, Public Information Officer at Lambda Legal, will be our panel moderator.