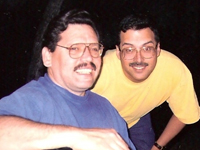 Joseph R. Diaz and Ruben E. Jiménez (l-r, Tuscon)
Joseph R. Diaz (far left), 50, and Ruben E. Jiménez, 46, have been together 17 years. Joseph has worked as a librarian at UA since 1992. Ruben has type–2 diabetes and high cholesterol and depends on health insurance through Joseph's group plan because his current job does not offer benefits. They have been unable to find any individual insurance policy that will cover Ruben's health needs.
Keith Humphrey and Brett Klay (l-r, Tuscon)
University of Arizona, Tucson, administrator and faculty member Keith Humphrey (near right), 35, and partner Brett Klay, 43, met nine years ago and are raising three children together, including two with special needs. Brett is a stay–at–home dad with health insurance as Keith's domestic partner. In August 2009, he was diagnosed with a torn carotid artery. Without insurance through Keith's employment, the couple does not know how they could afford the medical care Brett needs to recover.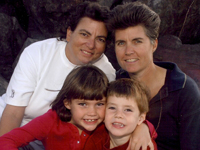 Mia Labarbara, Deanna Pfleger and their children (l-r, Lake Havasu City)
Deanna Pfleger (near right), 43, is a peace officer with the Arizona Department of Game and Fish. She and partner Mia LaBarbara, 42, will celebrate 20 years together in 2010. They are parents to two children, ages seven and 10. Mia recently lost her job and depends on Deanna's coverage more than ever.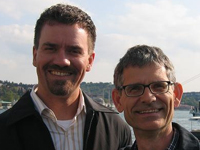 Stephen Russell and Scott Neeley (l-r, Tuscon)
Stephen Russell (near right), 43, is a professor and director of the Frances McClelland Institute for Children, Youth, & Families at UA. He and 54-year-old partner Scott Neeley have been together since 1993 and are registered domestic partners in California. Scott is self–employed, and depends on his health insurance through Stephen's position at the university. When Scott recently needed tests to check for prostate cancer, the couple realized how vulnerable they would be without domestic partner benefits.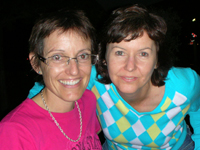 Sue Shapcott and Carrie Sperling (l-r, Phoenix)
Carrie Sperling (near right), 43, is a visiting clinical associate professor of law at Arizona State University. Her partner, 40–year–old Sue Shapcott, left a successful business in Dallas as a golf instructor so Carrie could accept the position at ASU and depends on the domestic partner coverage Carrie receives there. The couple would pay far more in healthcare costs if Sue lost partner coverage from the university.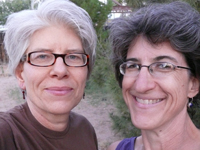 Susan Taunton and Beverly Seckinger (l-r, Tuscon)
Beverly Seckinger (far right), 49, is professor and interim director of the School of Media Arts at UA. She and partner Susan Taunton, 55, have been together for 22 years. Susan can only work part–time while she cares for her 88–year–old mother, so she relies on Beverly's insurance through UA. Private insurers have previously rejected Susan due to her asthma, so the couple worries they will have to leave Arizona to seek work in a state offering domestic partner benefits to public employees.
The case is Diaz v. Brewer.