Meet Kate and Trish, David and Larry, Dawn and Jen, Ingrid and Reva, Jason and Chuck, and Bill and Otter.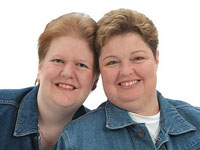 Kate and Trish Varnum
Kate, 34, and Trish Varnum, 43, of Cedar Rapids, have been in a committed relationship for seven years. They live six blocks away from Kate's childhood home and go to the church Kate grew up attending. They are conflicted when filling out forms because they can't accurately check either the "single" or "married" box. Kate says, "Without marriage there is no way for me to declare who Trish is in my life."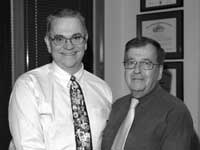 Larry Hoch (left) David Twombley (right)
David Twombley, 67, and Larry Hoch, 66, of Urbandale, are both retired teachers who have been in a committed relationship for more than seven years. Larry and David are both active in their respective churches and Larry looks forward to teaching Sunday school this spring. They want to get married because as they age they increasingly feel vulnerable and wonder if their wishes will be respected during medical emergencies.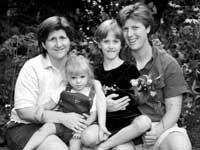 Dawn (left) and Jen BarbouRoske (right) with their daughters Breeanna (left) and McKinley
Dawn and Jen BarbouRoske, 40 and 38 respectively, of Iowa City, have been together for more than 18 years and have two children, McKinley, 10, and Breeanna, 6. Together, they formed a playgroup for gay and lesbian families called Proud Families. After Jen delivered McKinley eight weeks early, they realized that Dawn could be prevented from being with their daughter in the hospital because she was not legally related to either Jen or the baby — making an already stressful time more traumatic. Because they were not married, they had to leave their daughter in the neonatal intensive care unit at the hospital to seek the help of an attorney to draw up documents to protect Dawn's rights. This experience highlighted just how important it is to be able to marry.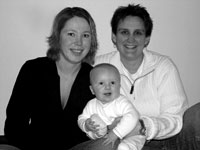 Reva Evans (right) and Ingrid Olson with their son Jamison
Ingrid Olson, 30, and Reva Evans, 34, of Council Bluffs, have been together for nearly 11 years and have a two-year-old son named Jamison. In 2004 they celebrated their devotion to one another with a ceremony attended by more than 200 friends and family. They want to marry so that their family will be treated fairly.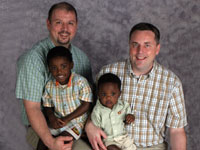 Chuck Swaggerty (left) and Jason Morgan with their sons Ta'John (left) and Reed.
Jason Morgan, 38, and Chuck Swaggerty, 36, of Sioux City, have been together for 11 years. Together they are raising their two sons, Ta'John, four, and Reed, two. They attend church together and enjoy restoring their house, where they someday hope to hold their wedding. When Chuck's mother passed away suddenly, Jason needed to take bereavement leave from his new job to attend the funeral 10 hours away but wasn't sure his employer's policy recognized that Chuck and his mother were part of Jason's family. Though he left a message for his manager explaining the situation, he didn't receive a call back and sat through the funeral wondering if he would have a job when he returned home. Though he was not fired he did receive a mark on his personnel record for an unexcused absence. This experience reinforced their desire to get married.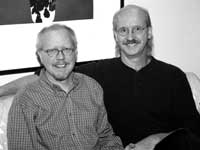 Bill Musser (left) and Otter Dreaming (right)
Bill Musser, 50, and Otter Dreaming, 51, of Decorah, have been together for more than seven years. Bill plays in a Scandinavian old-time dance band and Otter is the coordinator and musician for the Northeast IowaUnitatrian-Universalist Fellowship, a piano teacher and childcare provider. They want to marry because they want their family to have access to the protections and responsibilites that only marriage provides.