< Staff & Leadership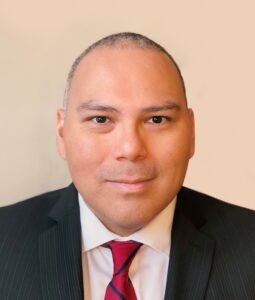 Richard Saenz
Senior Attorney, Criminal Justice and Police Misconduct Strategist at Lambda Legal
New York, NY
 Richard Saenz (he/him) is a Senior Attorney and the Criminal Justice and Police Misconduct Strategist at Lambda Legal, the oldest and largest national legal organization committed to achieving full recognition of the civil rights of LGBTQ+ people and those living with HIV. He focuses his work on the criminal legal system, coordinating litigation and policy work on behalf of incarcerated people and against the criminalization of LGBTQ+ people. 
Richard is the project manager and co-author of Protected & Served? 2022, Lambda Legal's groundbreaking community survey on the experiences of LGBTQ+ people and people living with HIV with the criminal legal system. The report is available at www.ProtectedAndServed.org. 
Currently, Richard is lead counsel in John Doe v. Delaware County, et al. concerning the unlawful denial of participation in a prison's work program because of Mr. Doe's HIV status and the unlawful disclosure of his HIV-positive status. He was lead counsel in Dorn v. Michigan Department of Corrections that resulted in substantive changes to the MDOC's policy directive that unlawfully discriminated against incarcerated people living with HIV. 
Richard was counsel in Hicklin v. Precythe, a successful challenge to Missouri's DOC's "freeze frame" policy denying appropriate health care to transgender people in its custody, in one of the first court decisions to rule specifically that "freeze-frame" policies are unconstitutional as they are in violation of the Eighth Amendment's prohibition on cruel and unusual punishment. The court ordered that Ms. Hicklin have access to hormone therapy, permanent body hair removal, and access to gender-affirming canteen items. 
In Rhines v. Young, a capital case in South Dakota, Richard was co-author of an amicus brief urging the U. S. Supreme Court to allow Mr. Rhines to present evidence that anti-gay bias was a factor in some jurors' decisions to sentence him to death. And he co-authored an amicus brief in New York State Rifle & Pistol Association, Inc. v. Corlett concerning the constitutionality of New York's licensing for concealed carry permits. The brief details the elevated risk of harm from firearms towards LGBTQ+ people including hate violence and suicide. 
Richard's legislative work includes coalition work on New York State's Gender Identity Respect, Dignity, and Safety Act. He is part of the legal team defending California's SB 132, The Transgender Respect, Agency and Dignity Act, on behalf of intervenors. His work has been featured in the Washington Post, NBC News, USA Today, Newsweek, and The Advocate. In 2016, he served as a panelist at the White House LGBT/HIV Criminal Justice Briefing. 
Richard was the recipient of the LGBT Bar Association of New York's 2022 Community Excellence Award. And, he has been named a Hispanic National Bar Association's Top Lawyers Under 40 and a National LGBTQ Bar Association's Best LGBT Lawyers Under 40. He received his Juris Doctor from Fordham University School of Law, where he was a Stein Scholar for Public Interest Law and Ethics. He holds a Bachelor of Arts from Georgetown University.