< Staff & Leadership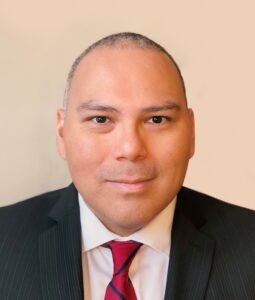 Richard Saenz
Senior Attorney, Criminal Justice and Police Misconduct Strategist at Lambda Legal
New York, NY
Richard Saenz is a Senior Attorney and the Criminal Justice and Police Misconduct Strategist at Lambda Legal, the oldest and largest national legal organization committed to achieving full recognition of the civil rights of lesbians, gay men, bisexuals, transgender people and those living with HIV. He began his career at Lambda Legal as the organization's help desk specialist, where he assisted hundreds of LGBT people and people living with HIV who called in seeking legal help.
He focuses his work on the criminal justice system, coordinating litigation and policy work on behalf of incarcerated people. Currently, Richard is leading Lambda Legal's response to the Trump Administration's changes to the federal Bureau of Prisons Transgender Offender Manual.
Richard was lead counsel in Dorn v. Michigan Department of Corrections,  that resulted in substantive changes to a Michigan Department of Corrections policy directive that unlawfully discriminates against incarcerated people living with HIV, a review of other individuals who were classified to administrative segregation under the former policy, and a monetary settlement.
In addition, Richard was a lead member of the litigation team in Hicklin v. Precythe, a successful challenge to Missouri's Department of Corrections "freeze frame" policy denying appropriate health care to transgender people in its custody, in one of the first court decisions to rule specifically that "freeze-frame" policies are unconstitutional as they are in violation of the Eighth Amendment's prohibition on cruel and unusual punishment. The court ordered that Ms. Hicklin have access to hormone therapy, permanent body hair removal, as well as access to gender-affirming canteen items.
He also helped secure a settlement with the City of New York on behalf of a gay man attacked by Rikers Island jail officials while visiting his partner (Hamm v. City of New York).
He has filed numerous amicus briefs addressing anti-LGBT biases in the legal system.  In Rhines v. Young, a capital case in South Dakota, Richard was co-author of an amicus brief urging the U. S. Supreme Court to allow Mr. Rhines to present evidence that anti-gay bias was a factor in some jurors' decisions to sentence him to death. Richard was also co-author of amicus briefs on the right to medically necessary care for incarcerated transgender people, the rights of sex workers and the rights of incarcerated LGBT people to have their cases reviewed.
He is a member of the National LGBT/HIV Criminal Justice Working Group and is co-author of the working group's report The Impact of the Trump Administration's Federal Criminal Justice Initiatives on LGBTQ People & Communities and Opportunities for Local Resistance.  Richard is a frequent speaker on criminal justice and policing issues at national conferences, law schools, and bar associations.  In addition, he served as a panelist on the 2016 White House LGBT/HIV Criminal Justice Briefing.
Richard has been named a Hispanic National Bar Association's Top Lawyers Under 40 and a National LGBT Bar Association's Best LGBT Lawyers Under 40.  He was awarded the Michael B. Davis-Elyse Hilton Alumni Award from the Fordham Law School OutLaws, the Alumni Award from the Fordham Law Latin American Law Students Association, and the Community Leadership Award from Queens Pride House.
He received his Juris Doctor from Fordham University School of Law, where he was a Stein Scholar for Public Interest Law and Ethics. He holds a Bachelor of Arts from Georgetown University.