< Staff & Leadership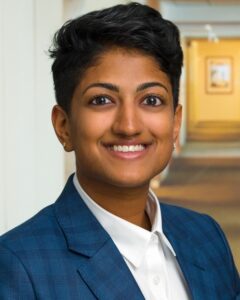 Sruti Swaminathan
Staff Attorney for Youth
New York, NY
Sruti Swaminathan (she/they) is a Staff Attorney in the National Headquarters Office of Lambda Legal where they advocate on behalf of LGBTQ+ Youth through impact litigation, education, and public policy work.  Sruti engages with both legal and non-legal organizations committed to protecting and advancing the rights of LGBTQ+ Youth, particularly youth of color, who are over-represented in foster care, juvenile justice systems, and homeless settings.
Sruti's litigation efforts center on the nationwide attack on transgender youth.  Sruti currently serves as counsel to B.P.J. in B.P.J. v. West Virginia Board of Education, a federal lawsuit challenging West Virginia's law banning girls and women who are transgender from participating in school sports.  On a preliminary injunction motion, the Southern District of West Virginia ruled that B.P.J., an eleven-year-old transgender girl, must be allowed to try out for the girls' cross-country and track teams at her school, blocking West Virginia's harmful legislation.
Sruti currently sits on the Pro Bono Advisory Board of Legal Services NYC, an organization committed to fighting poverty and seeking racial, social, and economic justice for low income New Yorkers. Prior to joining Lambda, Sruti spent four years of practicing in the Litigation Department of Willkie Farr & Gallagher LLP, where they spent much of their legal career supporting underserved populations, including LGBTQ+ people and undocumented immigrants.