< Staff & Leadership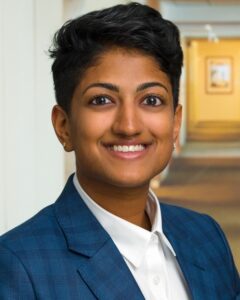 Sruti Swaminathan
Staff Attorney for Youth
New York, NY
Sruti Swaminathan is a Staff Attorney in the National Headquarters Office of Lambda Legal. Sruti engages with both legal and non-legal organizations committed to protecting and advancing the rights of LGBTQ+ Youth, particularly youth of color, who are over-represented in foster care, juvenile justice systems, and homeless settings. Sruti is currently co-chair of the Federal Criminal Justice Work Group's Youth Justice Subcommittee, which works to reduce the over-representation of LGBTQ+ youth in justice systems, and ensure that federally funded programs provide safe and affirming services to LGBTQ+ youth.
Sruti's litigation efforts center on the nationwide attack on transgender youth.  Sruti currently serves as lead counsel to B.P.J. in B.P.J. v. West Virginia Board of Education, a federal lawsuit challenging West Virginia's law banning girls and women who are transgender from participating in school sports.  Sruti is also lead counsel to L.W. and other plaintiffs in L.W., et al v. Skrmetti, et al, a federal lawsuit challenging Tennessee's total ban on gender affirming care for transgender and nonbinary youth.
In 2023, Sruti was named one of the "Best LGBTQ+ Lawyers Under 40″ by the National LGBTQ+ Bar Association. Prior to joining Lambda, Sruti spent four years of practicing in the Litigation Department of Willkie Farr & Gallagher LLP, where they spent much of their legal career supporting underserved populations, including LGBTQ+ people and undocumented immigrants. Sruti graduated with a Juris Doctor from Georgetown University Law Center in 2017, and was awarded the Lorri L. Jean Student Award for Excellence in LGBTQIA+ Leadership and Advocacy upon graduating. Sruti received a Bachelor of Science in Public Health from New York University in 2014.